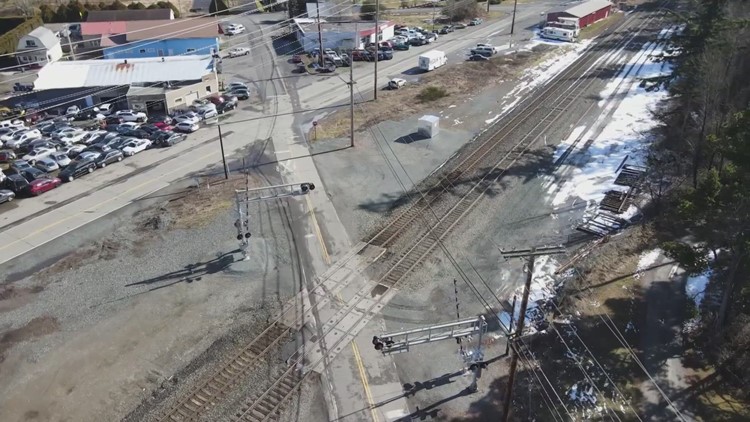 Custer, Washington was the site of a fiery train derailment in 2020. It's one of many U.S. cities left wondering if more can be done.
CUSTER, Wash. — Calls were flooding into 911 dispatchers in December 2020.
Residents of Custer in Whatcom County heard an unusual noise and witnessed a fiery plume of smoke along the railroad tracks just before noon on Dec. 20, 2020.
"I think it's oil," one witness reported. "Should we evacuate?"
It was an oil train, operated by Burlington Northern Santa Fe (BNSF), that derailed through the small town for unknown reasons. Ten cars jumped the tracks and 30,000 gallons of oil spilled into the surrounding area.
Families nearby got the evacuation order and got out quickly.
Local residents like Jenny Reich, who owns a glass shop up the street from the derailment, were not surprised.
"I just always had a feeling something would happen there," she told KING 5s Jake Whittenberg. "We just got lucky that it wasn't worse than it was."
In the end, no one was injured and the effects on the local environment were minimal. But the derailment stoked fear among other communities that have rail lines through their town.
And now years later, efforts to push a new rail safety bill through Congress are still uncertain. And it's unclear whether recent fiery derailments will be enough to convince lawmakers to make safety changes.
Introduced following the recent disaster in East Palestine, Ohio, the 'Railway Safety Act of 2023' offers a number of significant new regulations which include full disclosure of what freight trains are hauling at any given time.
In Washington state, there is no law requiring companies like BNSF to disclose their load, with the exception of crude oil.
The same trains that pass through Custer pass through higher populated areas like Seattle.
Regulations do require that hazmat rail cars property mark the load they are carrying for all to see. And a new state law requires at least two crew members to operate every train.
"This is a real issue," said state Senator Patty Kuderer (D) Bellevue. "Rail safety is critical."
Kuderer is working to pass legislation to enhance rail safety in Washington state. Senate Bill 5267 would require rail companies to offer paid sick leave.
"When you have worker fatigue, you are going to have less reaction time," Kuderer said. "You have people operating this incredibly heavy locomotive equipment, and you're prone to accidents then."
BNSF said it only provides hazmat information to first responders. A spokesperson said the company is "committed to safely and securely delivering the goods and products the American public. And BNSF has made a significant investment in infrastructure, technology deployment, rigorous employee and first responder training, improved operating practices and community safety efforts…. all to help ensure that more than 99.9% of all hazmat moved by rail reaches its destination without a release caused by a train accident."