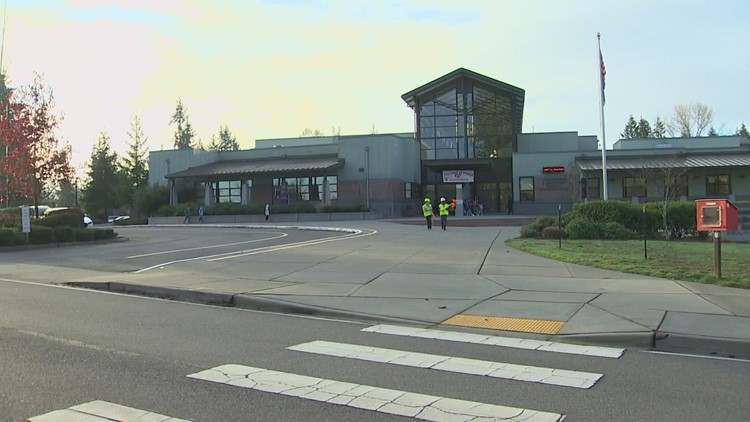 The school board voted to consolidate Wilburton and Eastgate elementary schools over concerns about declining enrollment.
BELLEVUE, Wash. — The Bellevue School Board voted Thursday to consolidate two elementary schools over concerns about declining enrollment.
Three board members voted to approve the plan and two abstained from voting.
Wilburton and Eastgate elementary schools will be consolidated, and students and staff will be sent to other schools in the district.
The Bellevue School District had initially proposed consolidating three schools but changed plans after holding a series of formal hearings and gathering feedback from the community.
The district was considering consolidating Ardmore Elementary as well. Under the newly approved plan, Ardmore would not be consolidated, and the district will add an Arabic Heritage Language program and work with staff to develop and implement "innovative approaches" to attract and retain students.
Next year, students attending Wilburton Elementary will be sent to Clyde Hill and Enatai elementary schools, and students attending Eastgate Elementary will be sent to Spiritridge Elementary. Advanced learning at Spiritridge would be relocated to Woodridge Elementary.
A drop in enrollment prompted the consolidation plan. The district said it realized in October that enrollment wasn't returning to pre-pandemic levels and would impact the district's financial position. Over the past three years, the Bellevue School District has declined by more than 1,500 students and that trend is expected to continue for years to come, according to Bellevue School District Interim Superintendent Art Jarvis.
Jarvis said in a release Thursday, "I want to extend my heart to a community that is aching as a result of this consolidation. We have no bad schools needing closing — only small schools getting smaller. That fact requires that we consolidate, and we will. I ask that all who love the schools join with BSD to embrace innovation and changes, as we work together to create a future system that is stronger and better than we could have ever imagined."
When the initial consolidation plan was announced in February, Deputy Superintendent for Financial Services and Operations Melissa DeVita said there could be district-wide layoffs if the consolidations didn't happen.
Enrollment dropped due to declining birth rates, higher housing costs, more educational options, including private schools, lower immigration levels and families moving to more affordable areas, according to the district.
Bellevue isn't the only district grappling with budget problems amid declining enrollment. Last week, Seattle Public Schools said it was considering layoffs while it addresses a critical budget deficit. Everett Public Schools could also cut full-time positions to make up a budget shortfall.